The TMA (Triangular Moving Average) indicator is a custom trading tool for technical analysis on the MetaTrader 4 (MT4) platform that smooths the price data and identifies the true market direction. It is a chart-friendly tool and can be used along with other technical indicators for better market analysis.
What is a TMA indicator?
The TMA indicator helps Forex traders identify the true market trend using a synergy of multiple moving averages. It employs a triangular calculation method, which involves applying three moving averages to create a single line. The line (formed by combining the moving averages) shows harmony in trend analysis generated by three moving averages.
So, the indicator provides a better trend analysis of the market. It signals that the market trend is bullish when the price closes and remains above the TMA line. Similarly, a potential bearish trend is when the price closes and remains below the line.
Features of the Indicator
The TMA indicator responds quickly to the price change, smoothing out false price movement, and then displays the true direction of the trend. It is also optimized to adjust to varying market volatility.
Finally, the indicator's parameters are fully customizable.
Benefits of Using the Indicator
Trend Identification: TMA helps traders identify the direction of the market. A price above the TMA suggests a bullish trend, while a potential bearish trend is when the price is below the TMA.
Entry and Exit Zones: The TMA can be used to identify a suitable zone for trade entry or exit. For instance, a Forex trader may look for a buying opportunity when the price crosses above the TMA line.
Reduced Noise: The indicator filters short-term price fluctuations and displays the clear market direction.
Confluence for Analysis: Finally, TMA can be used as a confluence during technical analysis to make better trading decisions.
Indicator Description Settings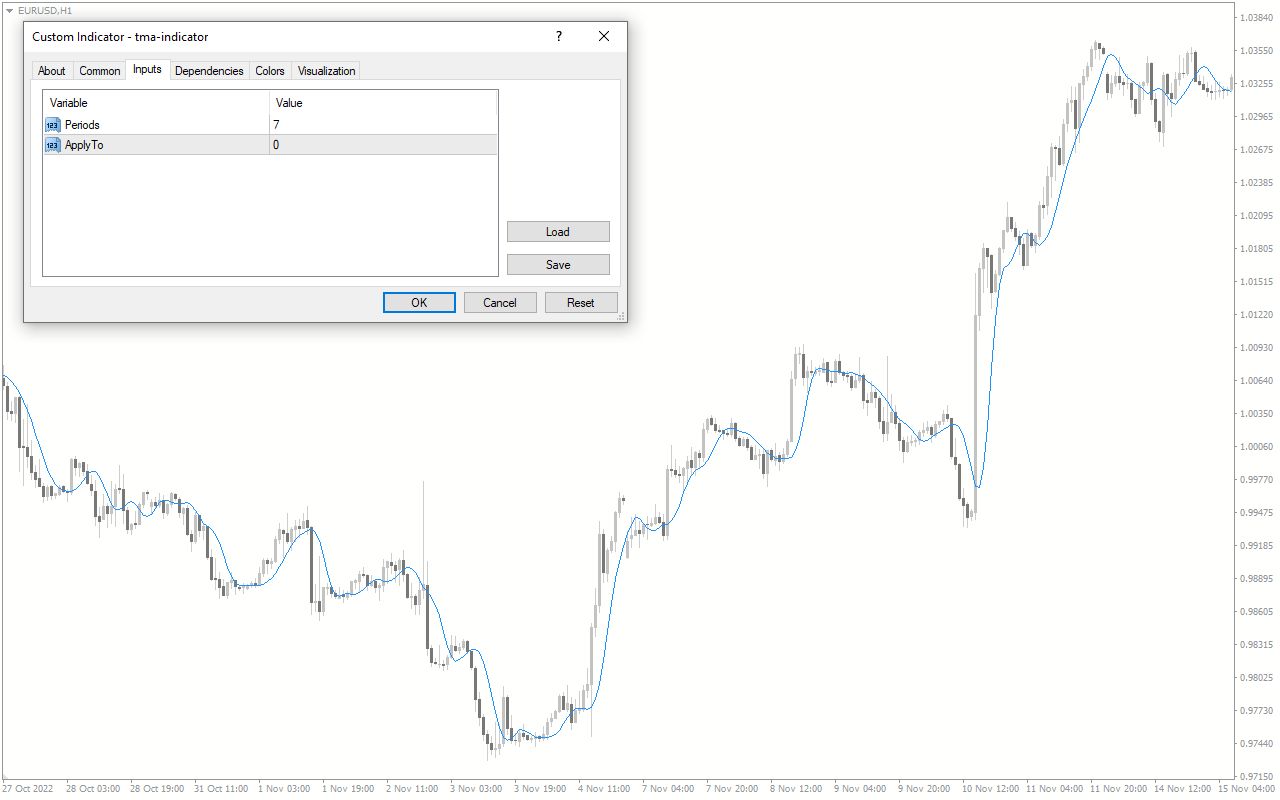 The indicator comes with the following customizable settings:
Periods: Defines the periods of the period of the moving average.
Apply to: Determines how the moving average is applied to the price.