The Pivot Points All-in-One Indicator for MT5 was developed to consolidate multiple pivot point calculation methods into one indicator. This helps to provide traders with more support and resistance zones using various calculation methods.
The indicator helps to identify various pivot points based on past price actions. Therefore, it would play a crucial role in helping traders make objective technical analyses and in finding optimal zones for trade entries or exits.
Features of the Pivot Points All In One Indicator
The Pivot Points All-in-One Indicator for MT5 uses various calculation methods like Fibonacci, Camarilla, Woodie's, Standard, and Denmark's to find and display the pivot points. It tags the pivot point as a support or resistance, giving traders a comprehensive view of the identified zones.
In addition, the indicator also supports full customization of the parameters to suit a trader's style.
Benefits of Using the Indicator
Saves Time: The indicator helps to save time and effort for traders by automatically calculating and displaying pivot points using different calculation methods.
Decision-Making Assistance: Forex traders can use the pivot points of the indicator along with their trading strategy to validate trade setups and make objective trading decisions.
Identification of Support and resistance zones: The pivot points are critical zones for potential trend reversal or continuation after a breakout.
Indicator Description Settings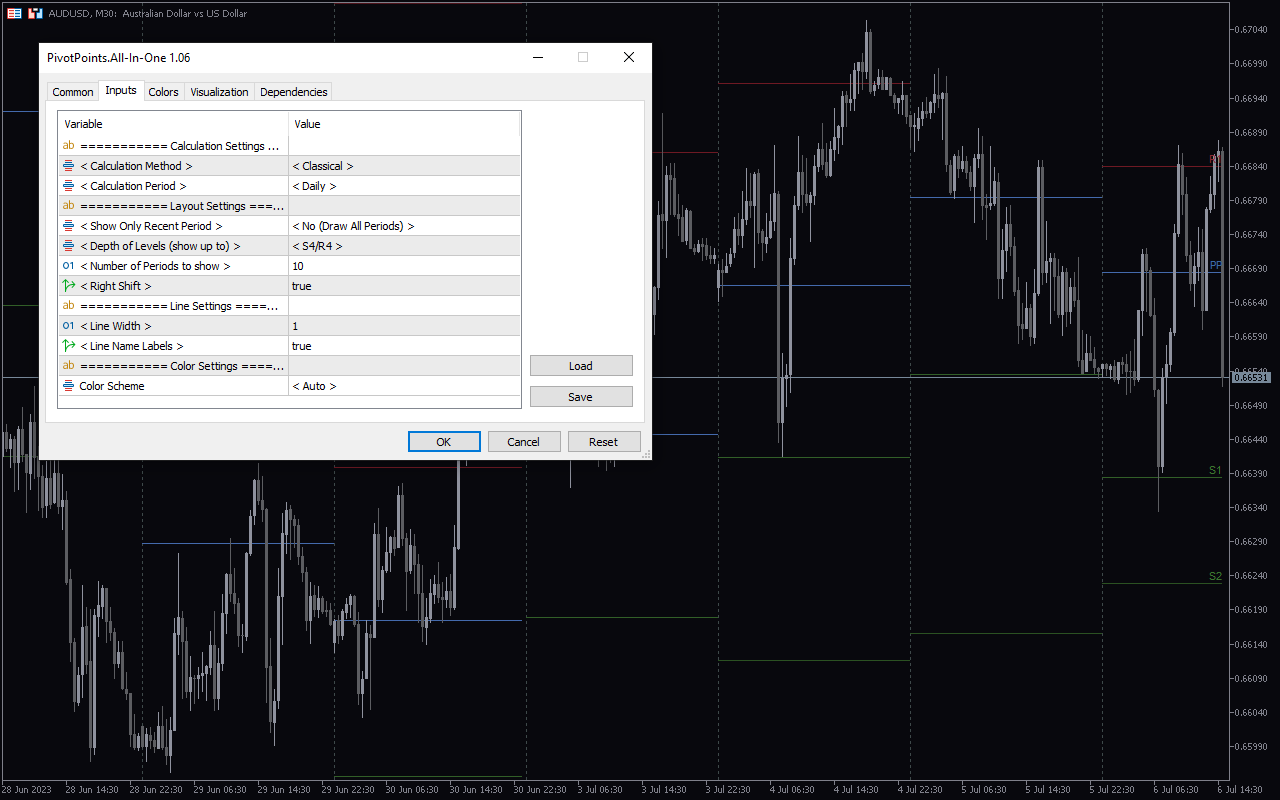 The indicator comes with the following customizable settings:
Calculated method: Determines the method to calculate the pivot points.
Calculated period: Defines the period to calculate the pivot points.
Show only recent period: Enables/Disables recent periods.
Depth of levels (show up to): Determines the number of pivot points (e.g., S4/R4) to display.
Number of periods to show: Determines the number of periods to display.
Right shift: Enables/Disables the lines to shift to the right.
Line width: Determines the line width.
Line name label: Enables/Disables name labels on the lines.
Color scheme: Determines auto-detection of color.