Binary Options Signals Indicator for MT4 is a technical trading tool that predicts the next candlestick formation. It analyzes the trend movement to determine the type of candlestick (bullish or bearish) that will most likely be formed next.
The signal of the indicator can be used to trade the binary options with better precision. Therefore, it is suited for beginners/intermediate and experienced options traders.
What is the best indicator for binary options?
Most binary options traders use indicators like moving averages, awesome oscillators, stochastic oscillators, etc. In the end, it all comes down to preference and how an option trader understands and uses the indicator. However, one of the best binary options indicators we can recommend is the Binary Options Signal indicator for MT4.
The indicator delivers arrow-based signals exclusive to binary options trading. It prints a green and red arrow, indicating CALL and PUT signals, respectively. The signals are displayed using a combined technical analysis of the Exponential Moving Average (EMA) and the Relative Strength Index (RSI).
Features of Binary Options Indicator
The indicator generates one of the best binary options signals with arrows that do not repaint. It works on all time frames; however, it is recommended to be used on the M15 time frame for optimal CALL and PUT signals.
Furthermore, the indicator has a functioning alert system that pops on the screen to notify traders of a CALL or PUT signal. Finally, the indicator's settings are customizable.
Benefits of Trading With Binary Options Indicators
Delivers optimized CALL and PUT signals: The indicator identifies a CALL/PUT opportunity when the signals of the EMA and RSI are in sync, hence the accuracy.
Beginner-friendly: The indicator is suitable for a beginner options trader to participate in binary options trading.
Indicator Description Settings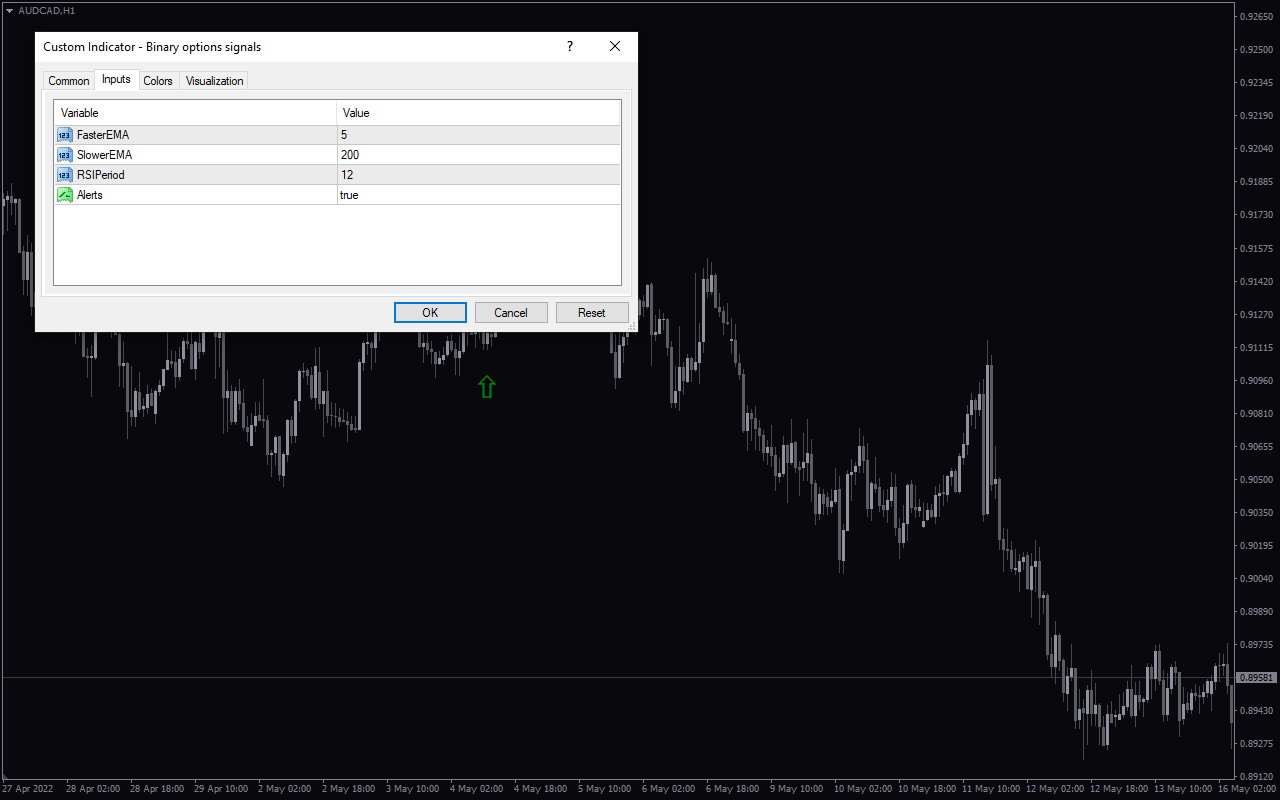 The indicator comes with the following customizable settings:
FasterEMA: Period of the faster EMA
SlowerEMA: Period of the slower EMA.
RSIPeriod: Period of the RSI.
Alerts: Enables/Disables signal alerts.