This version of the Trend reversal indicator for MT4 also known as MKNC, was developed by Mladen Knezvic, and designed to identify trend direction and reversal zones in the financial trading sector. It uses the Exponential Moving Averages of varying periods to spot market direction/reversals.
The indicator can be a valuable trading asset to scalpers, day/intraday, and swing traders in identifying trading opportunities. It is also suited for beginners, intermediate, and advanced Forex traders.
Features of the Trend Reversal Indicator
The indicator utilizes different algorithms to analyze the Forex market on multiple timeframes simultaneously. It filters short-term price fluctuations and adapts to various market conditions to provide accurate trend direction/reversal.
The indicator paints red and blue inter-connected dots on a separate window, which double as a trend direction and potential reversal signal. When the blue dot crosses above the red dot, it suggests that the price may reverse to the upside and vice versa.
Furthermore, the market is in a bearish trend if the red dot stays above the blue dot, while a bullish trend when the blue dot continually stays above the red dot.
Benefits of Using the Indicator
Trend identification: The indicator assists traders in identifying the overall market direction, which can be valuable during technical analysis.
Trend Reversal Signals: The indicator can also help traders recognize potential reversal zones of the price to find trade entry opportunities.
Confirmation Tool: Another benefit of the indicator is it can be used as a support tool in synergy with price action or other technical indicators to find optimal trade entry/exit zones.
Indicator Description Settings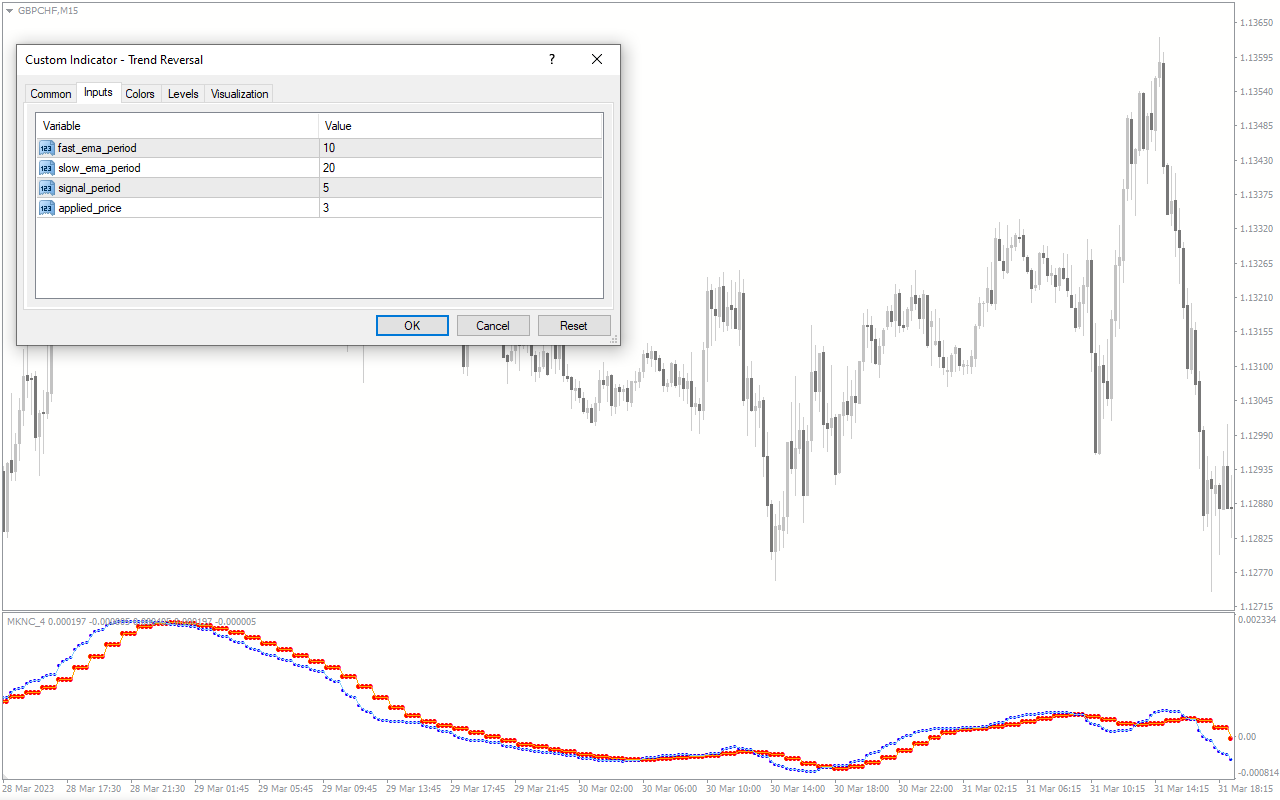 The indicator comes with the following customizable settings:
Fast_ema_period: This defines the period for the fast Exponential Moving Average (EMA).
Slow_ema_period: This defines the period for the slow Exponential Moving Average (EMA).
Signal_period: This shows the signal period of the indicator.
Applied_price: This shows the applied price.