The Trend Channel Indicator for MetaTrader 4 (MT4) is a Forex indicator that identifies the market trend. It plots equidistant trend lines to form a bullish or bearish trend channel on the chart.
The indicator suggests that the trend is bullish when it draws a channel line in the upward direction, while a bearish trend channel is plotted to the downside, signifying a downtrend. The upper and lower channel lines are resistance and support, respectively.
Therefore, the indicator can be used to identify the market trend condition of an asset. It also provides trend reversal/breakout trading opportunities for scalpers, day/intraday, and swing traders. In a bullish trend channel, for instance, a trader may find a trend reversal/breakout opportunity to sell or buy an asset when the price reverses or a break above the upper line of the indicator.
Features of the Trend Channel Indicator
The indicator plots the bullish and bearish trend channels using lime-green lines for the upper and lower boundaries and gold lines for the middle zone. Also, the inbuilt parameters are open for customization. So, a trader can determine the type of channel line (e.g., straight line) to be displayed.
Benefits of the Indicator
Trend Direction: The indicator displays a trend channel in the direction of the trend, thereby assisting traders to identify the trend direction without hassle.
Support and Resistance: The upper and lower lines of the indicator tend to act as potential support/resistance zones for the price to bounce and reverse. So, a trader may open a BUY or SELL position when price action shows a sign of trend reversal at the lower/upper boundary.
Breakout Signals: The indicator can also be used to identify breakout trading opportunities when the price breaks above or below the upper/lower boundary.
Indicator Description Settings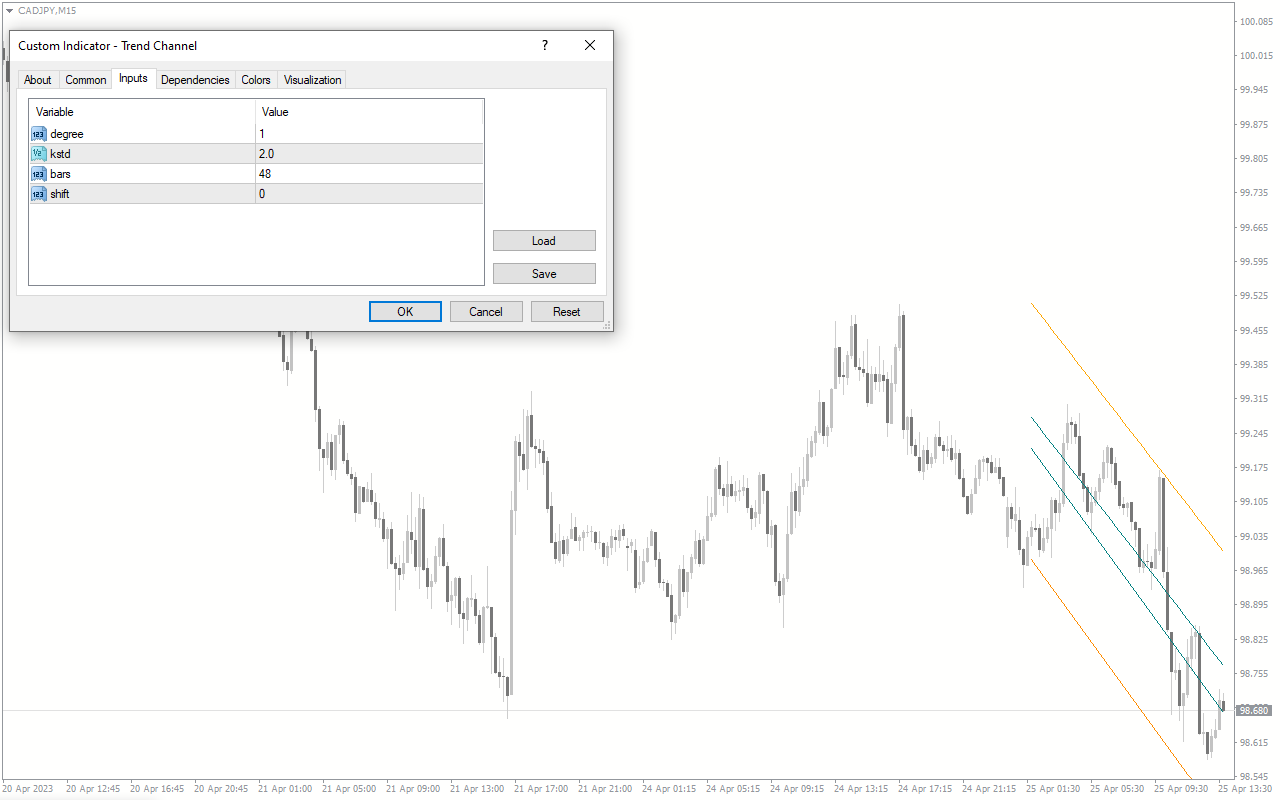 The indicator comes with the following customizable settings:
Degree: This parameter changes the shape of the trend channels.
Kstd: This shows the value of the standard for trend analysis.
Bars: This determines the number of minimum bars used for trend analysis.
Shift: Determines how the trend channel shifts on the chart.