The Supper Arrow indicator is a trend reversal MetaTrader 4 (MT4) system that paints buy/sell signal arrows at the potential reversal zone of the price. It was built with the Bollinger bands, moving averages, Bull/Bear power, Relative Strength Index (RSI), and signal arrows to show the trend reversal zone/potential direction in the financial market.
The buy/sell signal arrows are painted directly on the chart once the indicators are in sync. For instance, the Superb Arrow indicator would paint a buy signal arrow when the price of an asset reacts to the lower band of the Bollinger indicator while the RSI is at the oversold zone.
Features of the Indicator
The Super Arrow indicator is a system built with different indicators (bull/bear power, RSI, MA, Bollinger bands), which work together to identify a trend reversal. Besides, it has an inbuilt signal alert system that notifies users when a buy or sell signal arrow is displayed.
Furthermore, the indicator supports the customization of the inbuilt parameters, which makes it suitable for users to adjust it into a model that suits their style of trading.
Benefits of Using the Indicator
a) Buy/Sell Signal Arrows:  The buy/sell signal arrows make the indicator a user-friendly MT4 tool for beginners and advanced traders.
b) Trade Confirmation: The indicator may be used as a confluence with a trader's trading strategy/ other technical indicators to confirm a buy/sell opportunity.
c) Trend Direction Analysis: The indicator's arrows double as a trend direction tool and buy/sell entry signals, making it easy for traders to identify the bias of the market.
Indicator Settings Description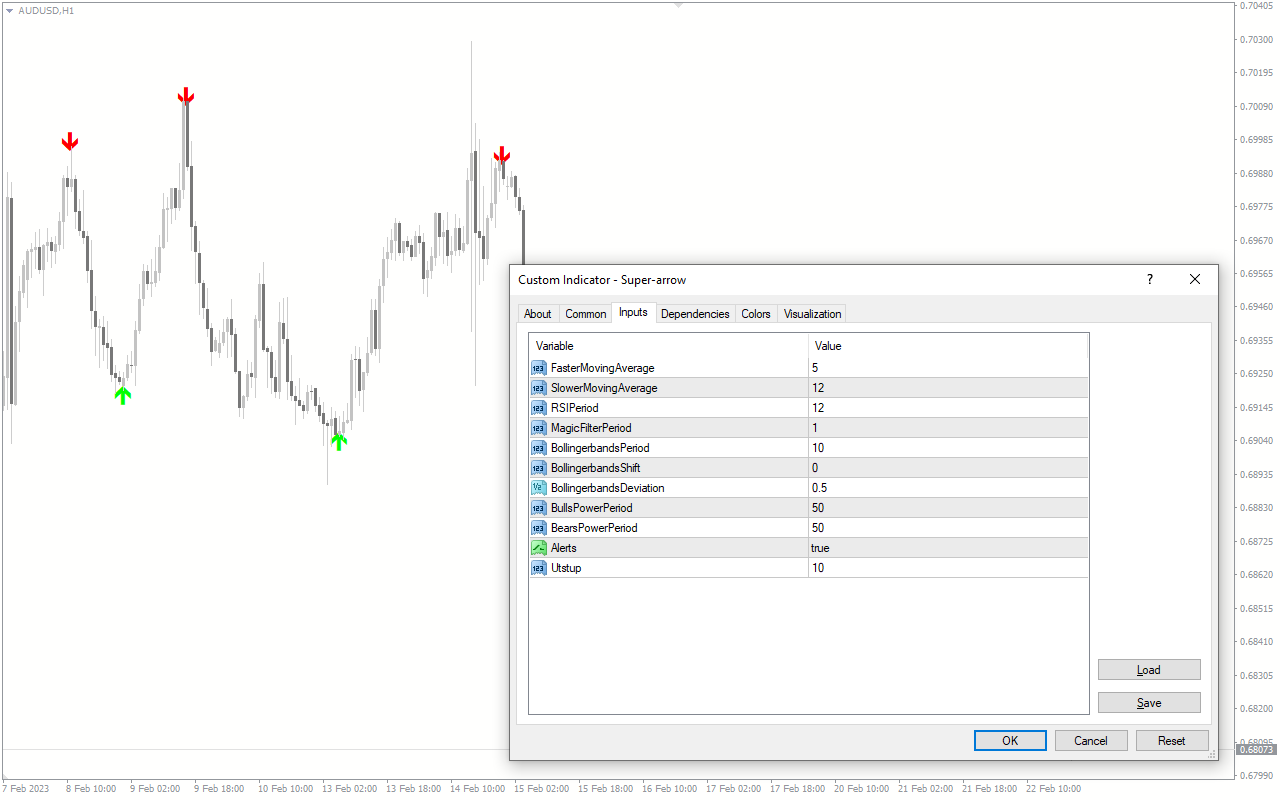 The indicator comes with the following customizable settings:
Faster moving average: This shows the period of the faster-moving average.
Slower moving average: This shows the period of the slower moving average.
RSI period: This shows the RSI period.
Magic filter period: This shows the period of the trend filter.
Bollinger bands period: This determines the Bollinger bands' period for trend analysis.
Bollinger bands shift: This determines the position of the Bollinger bands.
Bollinger bands deviation: This determines the deviation value of the Bollinger bands.
Bull power period: This shows the period of the bull power.
Bear power period: This shows the period of the bear power.
Alerts: This enables/disables the signal alerts system.