The Engulfing indicator identifies when one candlestick completely engulfs the previous one, signaling potential trade reversals in overall trend or counter-trend moves.
The Engulfing Indicator for MT4, available as a free download, actively scans the market to pinpoint these engulfing patterns, saving you the manual effort. Moreover, it goes the extra mile, distinguishing between bearish and bullish engulfing patterns, and provides clear labels. This indicator suits both beginners and advanced traders.
Engulfing candles reveal where market pressure concentrates. A bullish engulfing candle signifies dominant buying pressure, pushing prices higher as buyers outweigh sellers. Conversely, when sellers surpass buyers, prices dip.
The indicator simplifies this by displaying an upward-pointing blue arrow for bullish engulfing patterns and a downward-pointing red arrow for bearish engulfing patterns. Your task is to spot these arrows and align your trades accordingly. It's wise to complement this signal with confirmation filters like trend lines and moving averages for added support.
Moreover, this indicator excels in resistance and support areas.
Engulfing Features
It is versatile and, hence, applicable to all currency pairs and timeframes.
It offers customizable settings to align with your personal preferences.
Buy And Sell Strategy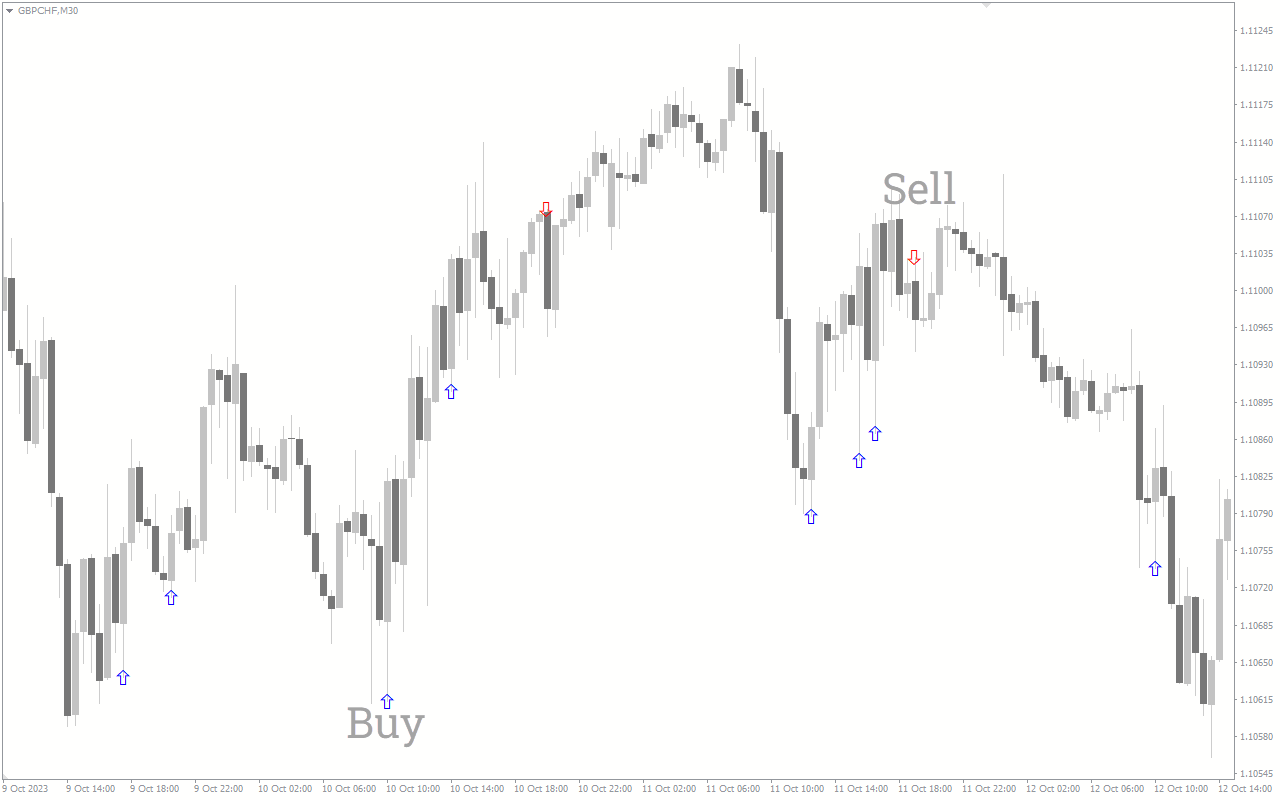 Bullish Signal (BUY)
Wait for the indicator to identify a bullish engulfing candle with a blue arrow. Place your entry on the next candle and your stop loss below the engulfing pattern.
Bearish Signal (SELL)
Wait for the indicator to identify a bearish engulfing candle with a red arrow. Place your sell entry on the next candle and your stop loss above the engulfing pattern.
Exit Strategy
The indicator shows many engulfing patterns at all levels. Therefore, it is important to use it with other tools like support and resistance. In this case, you can exit your trades when you see the opposite pattern at a key level.
The engulfing indicator simplifies the hard work of identifying engulfing patterns on the chart. Moreover, it offers excellent trading opportunities with arrow signals.