The Buy Sell Signals Arrows for MetaTrader 5 (MT5) is a momentum-based trend reversal indicator that displays buy and sell entries. The signals are generated at zones with significant support and resistance in the past.
So, in essence, the indicator paints a buy or sell signal arrow when it detects bullish or bearish momentum at a support/resistance zone, respectively. It suggests a buy signal opportunity by displaying a lime-colored arrow, while a sell signal is depicted with a magenta-colored arrow.
What is the most accurate buy-sell indicator?
The accuracy of a buy-sell indicator is subjective to how a trader understands and implements it in executing a trade. Nevertheless, the Buy Sell Signals Arrows Indicator for MT5 is one of the most accurate trend reversal indicators.
However, traders are advised to use the indicator along with price action/other indicators as confluence before opening a buy or sell position.
Features of the Buy Sell Signals Arrows Indicator
The Buy Sell Signals Arrows indicator offers a buy and sell signal based on the market momentum at a valid support/resistance zone. Furthermore, it supports multiple timeframe analyses, which makes it ideal for scalpers, day/intraday, and swing traders. Besides, beginner Forex traders can also use the indicator without a hassle.
Finally, the indicator does not repaint. It is also programmed to send buy/sell entry signals to traders via email, ensuring busy traders do not miss any signal.
Benefits of Using the Indicator
Time-Saving: The indicator saves time by automatically identifying optimal trend reversal zones and then displays a buy/sell entry. It also reduces screen time by sending signal alerts via email.
Decision Support: The indicator can also serve as a decision support tool to guide traders in making objective trading decisions.
Indicator Description Settings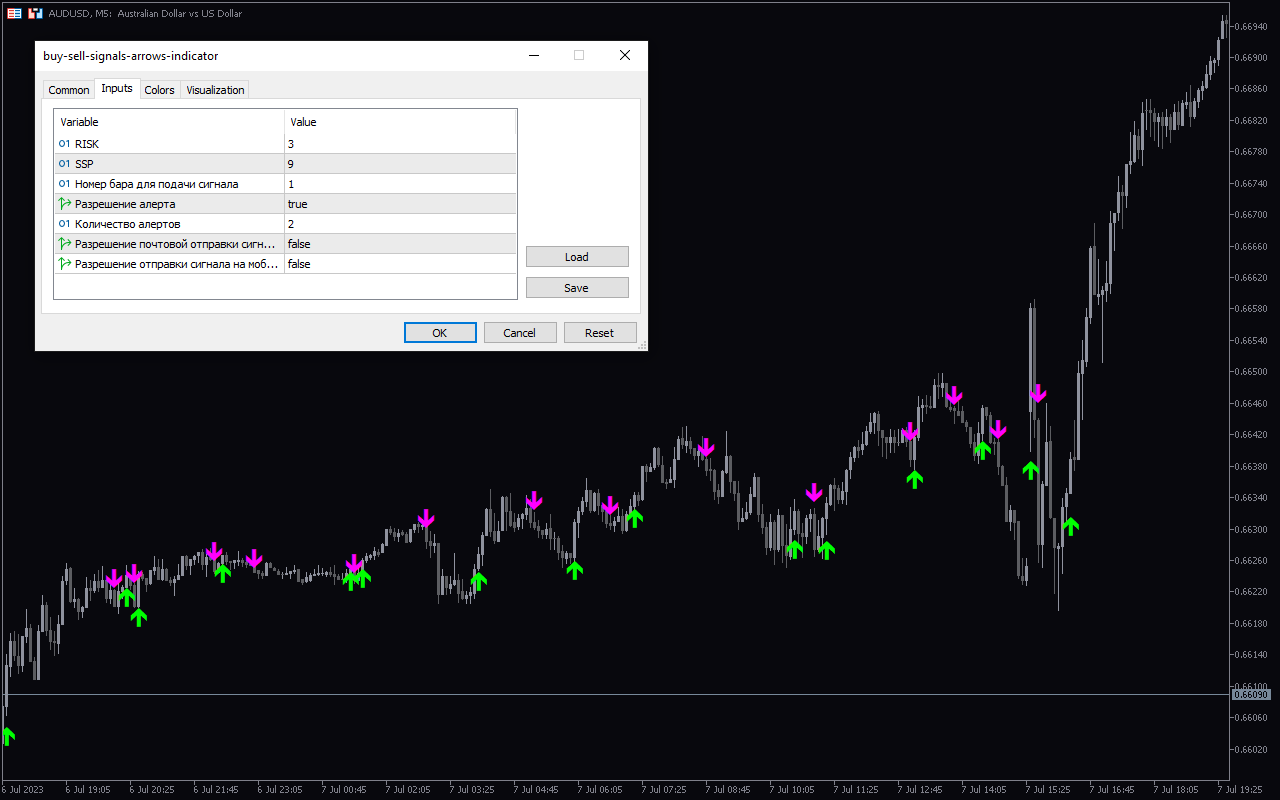 The indicator comes with the following customizable settings;
Risk: Determines the sensitivity rate of the indicator to the market trend.
SSP: Determines the rate at which signals are generated
StartBar: Determines the number of candlesticks to begin analysis.
Confirm Alert: Enables/Disables the alert system.
Number of Alerts: Determines the number of signal alerts.
Sound Alerts: Enables/Disables the sound alert system.
Email Alerts: Enables/Disables signal alerts via email.